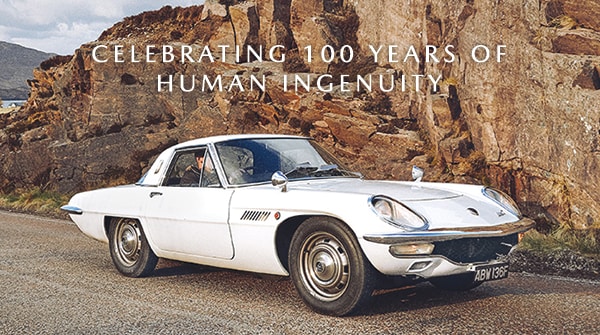 It has been said that true legends stand the test of time and the Mazda Motor Corporation is a perfect example of that. Not only has Mazda endured, but they have created a story of determination, success, and at their core, a philosophy of giving back. Mazda turns 100 in 2020 and their future looks brighter than ever, but first let's look back at how it all began…
The MAZDA Story

Jujiro Matsuda is the founder of the Mazda Motor Corporation and his story is the thread connecting Mazda's passion for success and service. Mr. Matsuda grew up poor, and due to unfortunate circumstances, he was unable to attend school and began working at age 13 as a blacksmith. During this time, he found his passion for the machine industry and begin to educate himself. In the years that followed he went on to invent and engineer new products with both failure and success, but with each failure, he would make improvements and eventually succeed. He believed that quality machinery was essential to producing a good product. The automobile industry was gaining attention and was becoming necessary for the general public. However, the four-wheel vehicles that were available at the time were too expensive for most people and they needed another option for transportation. With that in mind, Mr. Matsudo focused on developing a three-wheeled truck that was less expensive, more accessible and would help improve the quality of people's lives. They called it the "Matsuda Go" and that soon turned in to the name Mazda. The rest, as they say, is a long history of greatness.
MAZDA Vehicles

In 1960 Mazda debuted its first passenger car, the tiny R360. In 1989 the Mazda MX-5 Miata was introduced and has become the best-selling two-seat sports car in history, surpassing the one million mark worldwide. The tradition continues today with Mazda's award-winning line of sedans and SUVs, including the Mazda3, Mazda6, Mazda CX-3, Mazda CX-30, Mazda CX-5, and the Mazda CX-9. Mr. Matsuda's spirit and philosophy of engineering expertise, improving the lives of others, and the pursuit of excellence are still at the core of the Mazda Motor Corporation.
During this unprecedented time, Premier Mazda of Kansas City, serving Grandview, Lanexa, and Lee's Summit areas would like to extend our wish of health and happiness to you and your family. We are forever grateful to our customers and we look forward to serving you and your family for the next 100 years!