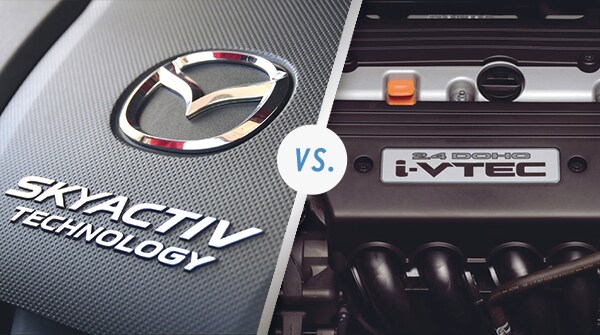 Engine technology has come a long way since the days of the first cars. Although the same basic principles are applied, modern car engines have evolved to meet the needs of today's drivers. More power with greater fuel efficiency is expected in today's cars. Visit Premier Mazda of Kansas City to experience the Mazda SKYACTIV® TECHNOLOGY engine.
Engine Technology
Mazda SKYACTIV® TECHNOLOGY
Mazda's SKYACTIV® TECHNOLOGY was designed for peak efficiency without compromising performance. With higher compression ratios than conventional engines, using a direct injection technology similar to how diesel engines run, SKYACTIV® TECHNOLOGY engines maximize driving dynamics and efficiency. The average fuel injected motor runs 10.0:1 compression and fuel pressures about 45psi whereas the SKYACTIV® TECHNOLOGY engine runs a very high compression of 14.0:1 and extremely high fuel pressure of up to 3000psi.
Honda VTEC
Honda's VTEC, which stands for variable valve timing and lift electronic control, is an electronic and mechanical system that allows the engine to have multiple camshafts effectively. This system was developed to improve the volumetric efficiency of a four-stroke internal combustion engine, producing a higher performance at high RPM, and lower fuel consumption at low RPM.
Comparison
Mazda3 Sedan
The Mazda3 sedan utilizes a 2.0L SKYACTIV®-G 4-cylinder engine and generates 155 horsepower @ 6000 rpm and 150 lb.-ft. of torque at 4000 rpm.
Honda Civic Sedan
The Honda Civic sedan uses a 2.0L DOHC i-VTEC 4-cylinder engine which produces 158 horsepower @ 6500 rpm and 138 lb.-ft of torque at 4200 rpm.